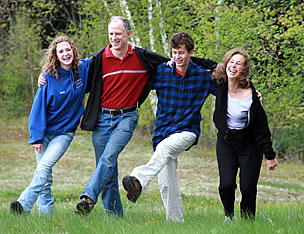 Mark Fernald was born in Keene, raised in Peterborough, and now lives in Sharon with his wife, Beth, and their two children. Mark and his family garden organically, produce their own maple syrup, and heat their home partly with wood.
He is an honors graduate of Amherst College and Boston College Law School. Mark practices law in Peterborough with the firm of Fernald, Taft, Falby and Little. In his community, he has served on the boards of the Peterborough Chamber of Commerce, the Colonial Theatre in Keene, the Kiwanis Club of Peterborough, the Monadnock Community Early Learning Center, the Peterborough Children's Choir, and Union Congregational Church. He is treasurer of the Granite State Fair Tax Coalition and has served as a New Hampshire delegate to the general synod of the United Church of Christ.
Mark was elected to the State Senate in 1998 and 2000. He was the first Democrat to hold the District 11 seat since before the Civil War. Mark was the Democratic nominee for Governor in 2002.
In the State Senate, Mark distinguished himself as someone willing to read every word of a proposed bill, seeking ways to improve the legislation. He took on issues others were reluctant to touch, coming up with logical explanations and common sense solutions.